October Plenty 2018 in association with The Borough Market's Apple Day

Took place on Sunday 21st October
on the Bankside
outside Shakespeare's Globe. The procession of the Corn Queene and Berry Man
to Borough Market's wonderful Apple Day

The magical Fabularium in the boisterous "There be Monsters"
With "The Execution of John Barleycorn"

Dancing, Music, Games, Apples, Pedlars, Bees,
Conkers, and Cider, The Hobby Horse and Story Orchard.
October Plenty is an Autumn harvest celebration held annually in Southwark. Beginning on the Bankside, by Shakespeare's Globe, October Plenty mixes ancient seasonal customs and theatre with contemporary festivity, joining with historic Borough Market, Southwark and Borough Market's Apple Day.
October Plenty is a collective celebration of the seasons, weather and food, in a public place, with access to everyone. The event is free, and happens whatever the weather.
The October Plenty events & highlights:
The Corn Queene
A huge Corn Queene effigy heavy with 'Plenty' - wheat, barley and other grains, and apples, root vegetables and foliage from the Borough Market - appears in a procession around the front of the Globe, Bankside, with the Company of actors and the time-honoured Hobby Horse in attendance, strung with cakes and loaves and led by the Berry Man.
The Berry Man
The Berry Man - our Autumn incarnation of the original Green Man - decked with wild fruits and foliage, leads the company. He carries an Apple Tree to where it will be placed within the Bankside area, with general songs and music on the street for all.
The Procession
After gathering the crowd from the Bankside, we move through the streets to the Borough Market to join in their Apple Day festivities. There is time to savour the delights on offer: soul cakes, apple biscuits, conker fights, cider from the New Forest, apple bobbing, a great beer selection and the wonderful market stalls as well as more Music and song.
The Play
The play we perform changes from year to year. for 2013 we chose
The True Tales of Robin Hoode
Always especially adapted for October Plenty and spiced with festive spirit and song, these plays are performed in Southwark where Chaucer's pilgrims first gathered - sit back with cider and pies and enjoy!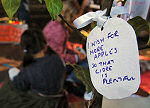 The Story Orchard
We create a little glade of young English apple trees as a space for children to gather. There they can decorate and re-clothe the trees with green wishes (paper apples) and listen to stories about apples, markets, harvest time, bees and many an autumnal tale!
The Apples
There is a tasting table of old apple types from London and the regions supplied by Brogdale Horticultural Trust and other private donors. Discover & explore the apples of old England before they all disappear! Tastes of the old, the rare, the local & the downright odd. Bring your own mystery apples & see if our Apple Doctor can identify them.
---
---