St George And The Dragon
St George's Day 2015 Performances
A fun-packed day includes performances of our 'St George & the Dragon' play in Southwark.
If YOU would like the Lions part to bring
St George to your event, contact us on admin@thelionspart.co.uk
St George And The Dragon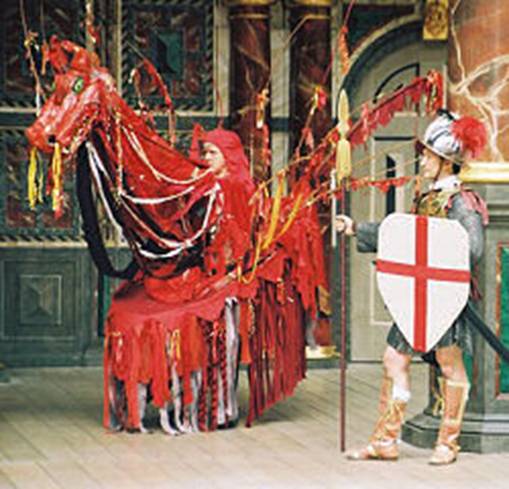 George and the dragon at the Globe
St George and the Dragon is a folk play hybrid containing all the hallmarks of the Lions part street theatre style.
First created for St George's day on Bankside in 1997, the text is based on the traditional English Combat Play of which there are so many examples still performed nationwide, including that which we perform for our Twelfth Night festival: the Mummer's play in which St George appears.
St George and the Dragon is a mixture of traditional lines from these plays, Shakespeare, nursery rhymes, verse invented by the actors, contemporary references and bit of old alchemical tracts and dragon lore. There is usually a fair bit of audience interaction.
At its centre is the death and resurrection of the dragon as an alchemical beast that can be transformed (by laughter or chemical reaction) into something desirable and in effect immortal (as myth is). This is enacted through the intervention of St George who of course wishes him alive again in order to fight (or play) another day...

George in an open air production
We have found we rewrite St George and the Dragon for each event it is performed at. It has featured such characters as the time-honoured Doctor of the Mumming plays, a magician, the goddess of the Thames 'Tamesis', various appropriate seasons who are delivered from the dragons belly, and recently St George has become St Georgina.
We have two dragon puppets: the water dragon and red fiery dragon: both puppets created by the company and colleagues. As such the plot changes to suit the dragon too.
Events include: St. George's day celebrations in 2012 in Bradford and Southwark, St George in Southwark Festival 2008/9/10, Telford Council St George's Day, Winchester Hat Fair, Newham City Farm Open Day, Market Harborough Street Festival and in Southwark at The Tate Fete, Mint Street Park Festival, several years for St George's Day on the Bankside, Borough Market Food Fair, and Peckham Town Square Festival.
St George and the Dragon is available for events throughout the year. It is a prose play of about 25 minutes long. We also have a 12 minute version, 'The Ballad of St George and the Dragon', which can be adapted to suit the season - it's perfect for fetes, corporate evtnts, village halls, town squares...
Do contact us if you are interested on 020 7635 8101 or info@thelionspart.co.uk.
The 12 minute 'Ballad of St George and the Dragon' is a 500 year old ballad originally written about St Eglamore and adapted by us to tell the story of George slaying the dragon. It can be adapted to suit the season and has a cast of five or six including one musician.
It was developed and performed at Shakespeare's Globe as part of the Frost Fair in December 2006 when the company did 24 performances in 2 days!
It is adaptable, amusing and delightful to watch: please contact us if you would like to book it. The slideshow below shows images from this play.