October Plenty
We are so sorry to announce that
there will be no October Plenty festival in 2023
However .

We are choosing now to dedicate this coming year to exploring the overall creative and administrative needs that such a festival requires to be sustainable for years to come.

We want time to refresh and revisit all our lasting collaborative partnerships. Partnerships that are essential in terms of realising creative input, goods and resources and community interactivity for the festival.
We want to recognise and strengthen the shared public domain that is the root of this much loved seasonal theatre-based festival.
 
  We hope to forge new collaborations too!
---
Previous October Plenty events & highlights: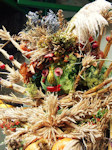 THE CORN QUEENE
Heavy with wheat, fruit & vegetables, the magnificent CORN QUEENE will appear in procession in front of the Globe with our company of actors, along with the traditional HOBBY HORSE.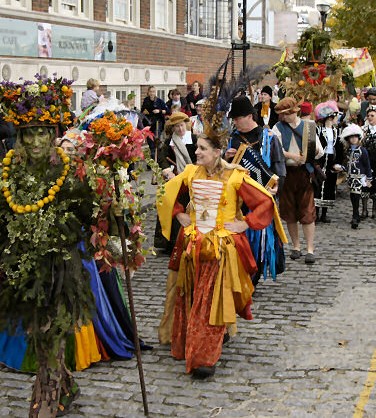 THE PROCESSION, MUSIC & DANCING
Join the procession of music, flags and spectacle through the streets to the historic BOROUGH MARKET. Leading us is the extraordinary BERRY MAN, the autumnal Green Man, decked with wild fruits & foliage. See the Borough Market's bright Market Hall come alive with festivity whilst savouring and sampling the food, cider and apple juice on offer from this famous food market.
THE PLAY
This year the Lions part heartily welcomes The Fabularium with their boisterous Fabularium Fables the release of their Flock of Sheep into the Market.
MUSIC & DANCING
See the Ravensbourne Morris dancers amidst the festivities, the time honoured Redding Moreys and Shakespeare's Goddesses in splendour. Catch the Berry Man and company for a conker fight.
Watch the infamous EXECUTION OF JOHN BARLEYCORN and Dance the Hay with us followed by the traditional stripping of the CORN QUEENE.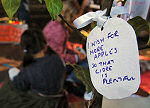 THE STORY ORCHARD
All afternoon a little orchard of young apple trees creates a space for storytelling for children of all ages about food, magic & harvest. Our beloved master storyteller Pat Ryan joins us once again.
CROSSBONES GRAVEYARD
At the end of the festivities join us to visit & decorate the extraordinary gates of Crossbones Graveyard in Red Cross Way and contemplate the quiet of the Graveyard with us.
OCTOBER PLENTY is FREE, FUN and PHOTO-FRIENDLY for ALL THE FAMILY.
Warmest wishes for the autumn season,
the Lions part
Lift up your hearts, your voices and feet!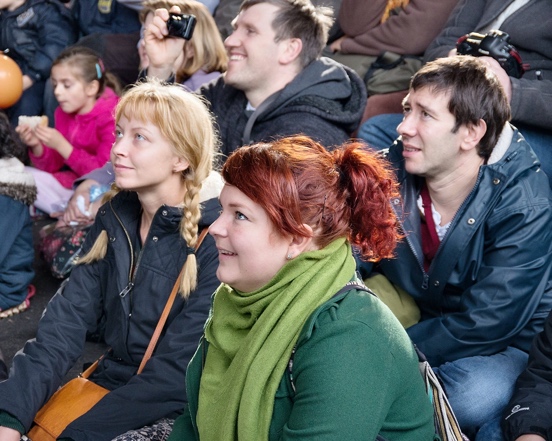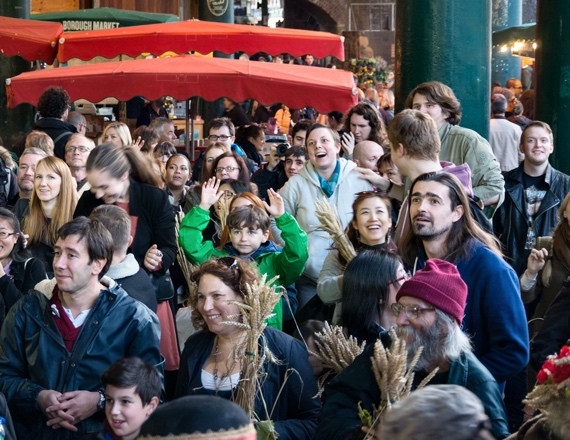 Keep an eye on our facebook and twitter feeds, our Instagram Account, our Youtube Channel and this website for news.